June 26, 2020
June 26, 2020 | Montpelier, VT – In a year when Vermont business has been faced with unique and difficult challenges, the Working Lands Enterprise Board has continued to facilitate financial investments to support agricultural businesses across the State.  Along with $250,000 dollars of funding for COVID-19 related business development grants recently announced, the Board also deployed another $1.4 million in grants and contracts, to (35) Agriculture and Forestry businesses and service providers around the State in 2020.
"Even during the most challenging times Vermont's farmers, producers and businesses are looking to the future," said Anson Tebbetts, Secretary of the Vermont Agency of Agriculture, Food and Markets.  "They are innovators and are bringing more value to their products while creating jobs and helping our rural economy."
Part of the strategic plan for this year was the emphasis on large-scale market level and supply chain impacts in the dairy and forestry sectors,  which were eligible for grants up to $150,000. Representing the forestry sector with projects to improve processing capabilities and healthy forest stewardship are Rick's Firewood and DCI Inc. who received funding that totals $225,000. Kingdom Creamery and Joneslan Farm are the larger dairy investments, totaling $293,954, to complete projects in relation to production and processing.  For this particular funding round, per a legislative set-aside, the WLEB  devoted $500,000 to specifically target projects from dairy farm applicants. This funding was allocated across all business grant categories, and projects from $5,000 - $150,000 were eligible.
Below is the full list of Fiscal Year 2020 Grantees: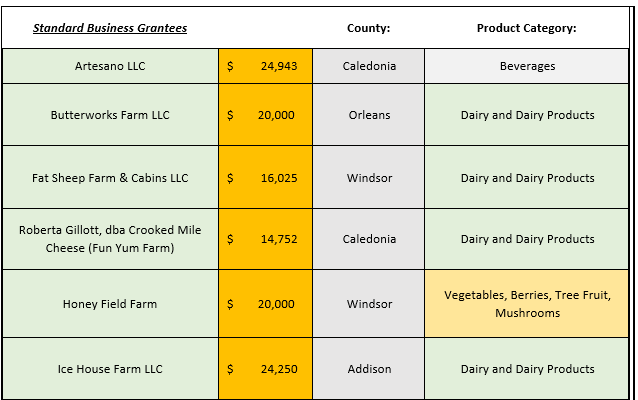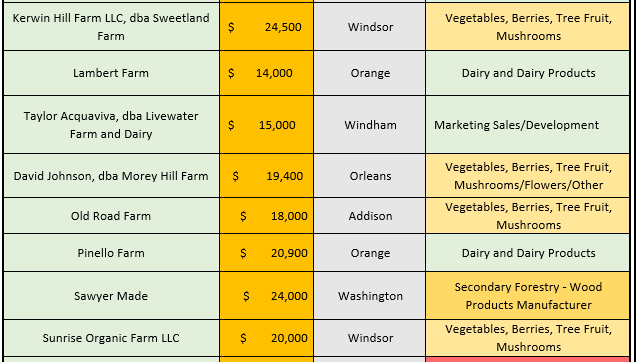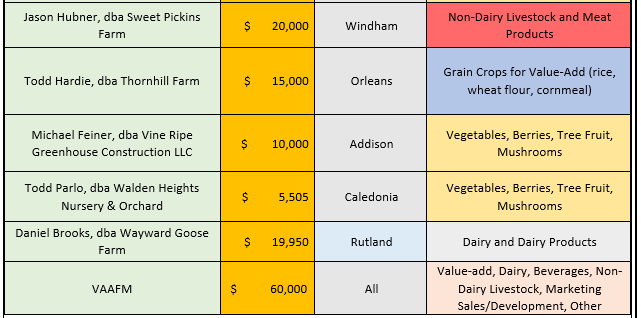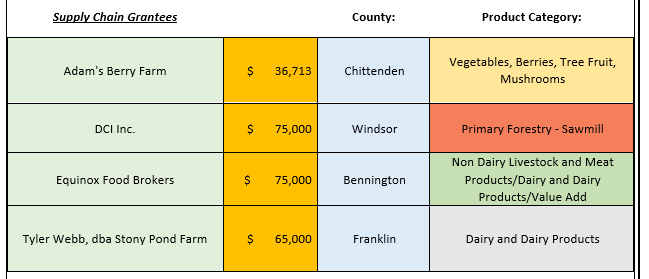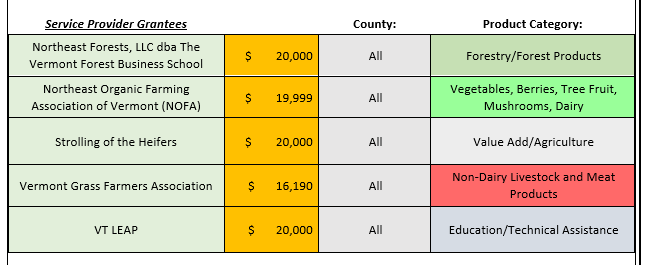 The Working Lands Enterprise Initiative (WLEI) and governing board (WLEB) were created by the legislature in 2012 to stimulate economic development in the agricultural and forestry sectors. WLEI is a collaborative effort between the Agency of Agriculture, Food, and Markets, Department of Forest, Parks, and Recreation, and the Agency of Commerce and Community Development. WLEB, which finalizes all funding decisions, achieves this goal by making investments across businesses and service providers in critical leverage points which will have the highest return on investment. This initiative supports Vermont entrepreneurs by providing financial assistance to help innovate and grow their business while also creating jobs, building infrastructure, and promoting growth in economies and communities of Vermont's working landscape.   
For questions please contact:
Lynn Ellen Schimoler
VAAFM Senior Agricultural  Business Development  | Working Lands Enterprise Initiative
LynnEllenSchimoler@vermont.gov | 802-622-4477