December 29, 2022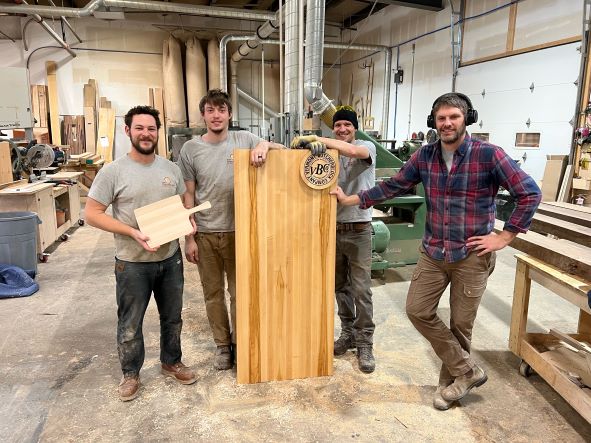 When The Tree House Hardwoods opened its doors in South Burlington, Vermont, in 2014, the mission was to keep it simple and sell lumber with basic services like planing boards.  
Nearly a decade later, the operation has expanded three times to accommodate complex wood projects, like ornate replica column bases for historical buildings and custom molding. Most of their growth, though, comes from the increasing demand for butcher block countertops made from Vermont maple.  
"We have more demand than we have production capacity. We just can't produce butcher blocks as fast as people want to buy them no matter how much we do," said Adam Claussen, who works in the mill shop. 
Owner Lucas Jenson says they've found their audience among buyers who understand the value of integrating wood into their homes. 
"There is a butcher block mentality or butcher block state of mind," Jenson explained. "Some people are totally fine with a Corian or a laminated countertop. People interested in a butcher block countertop…there's something about the quality of the environment they've chosen to live in."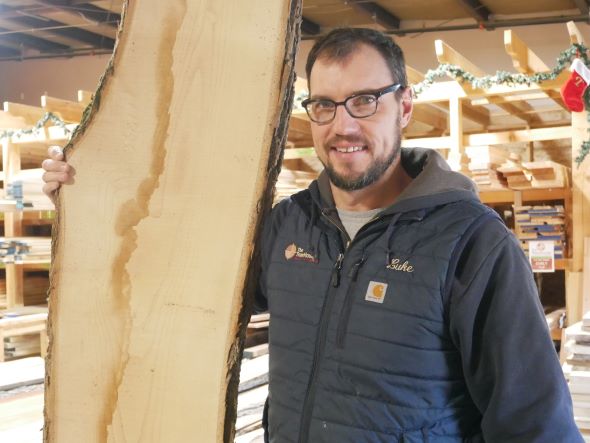 One thing is immediately clear upon seeing the quality of craftsmanship and passion The Tree House team brings to their work: wood is their art form, and it's anything but simple. Their signature Vermont Butcherblock Company countertops are made in a multi-step process that normally takes eight to ten weeks to deliver after a customer orders. 
It's a process they say will soon be cut to only two to three weeks as part of their most recent facility upgrade, made possible by a $75,000 Working Lands Enterprise Initiative (WLEI) grant.  
"This equipment has been transformative. It has transformed this shop more than anything else we've ever done since we started," Jenson said. 
Working Lands Grant Supports New Equipment for Faster Turnaround 
In the fall of 2022, three new pieces of equipment were purchased with the grant funds, and the workshop space was expanded to create room. 
Within just a few months of the upgrade, the team saw a 50 percent reduction in the time it takes to produce a butcherblock countertop. The impact is evident in every area of the business, including their retail store, where butcher blocks can be purchased off the shelf for the first time.
"This equipment has allowed us to leap forward from a wood shop into more of a manufacturing and production facility," workshop manager Jeremy Ravelin said. "We still do customized work, but this allows us to have butcher blocks in stock and not have every single one be a special order."
The first piece of new equipment in the optimized process is a gang rip saw, which cuts a board into multiple butcherblock strips with one pass rather than three to four passes.
"Before, we used to make the strips one at a time. The new saw has multiple blades in it, so we just send the whole board through the machine, and it spits out three or four strips on the other end," Claussen said of the process. "It's easily seven or eight times faster than the way we were doing it before. This week, we ran about 3,000 board feet of maple into strips in three hours. Before, it would have taken us three or four days." 
The next phase of improvements can be seen in the gluing process. The grant funds were used to purchase a new glue rack that holds multiple countertops in a self-contained clamping system that is easy to access because it rotates like a giant wheel. This allows the team to access any of the countertops quickly and safely. 
Before the new system, their glued countertops were in a stacking rack with heavy removable clamps, and if they needed the countertop on the bottom, they had to unload all of them to get it. The new machine reduces the heavy lifting of clamps and countertops for a safer work environment. 
The speed of the cutting and gluing process together has been a game-changer. 
"Neither of these pieces of equipment on their own would have been transformative by themselves, but the combination of the two really allows us to step up our game," Ravelin said. 
The third piece of equipment purchased is a dust collector with a larger capacity for a safer work environment. It also reduces workload. Jenson says instead of emptying their old collector three to four times a day, they empty the new collector once a week.  
"Plus, the quality of the product that comes off the CNC machine is higher because it's collecting more dust in the process of cutting. If you're cutting through a bunch of wood chips, those wood chips can actually affect how clean that cut is," Jenson said. 
The last item to be purchased is a laser engraver to brand smaller complimentary items, like cutting boards, with the Vermont Butcherblock logo. This will also allow the team to offer customization services in 2023.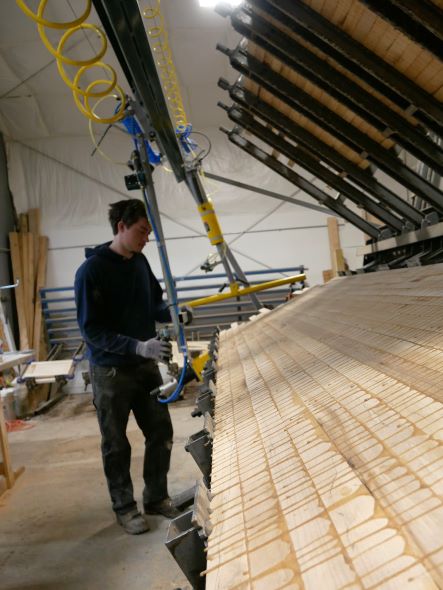 As a business that was built with used equipment that requires constant maintenance, Jenson says it's been refreshing to have new equipment that works well. More importantly, he says, without the Working Lands grant, they would have had to purchase used equipment in a piecemeal fashion that wouldn't have allowed them to scale their business as efficiently. 
The increased efficiency at the shop is already seeing a trickle-down effect on other working lands businesses.  
Sourcing More Vermont Maple Sustainably 
With the increased output from the optimized equipment, The Tree House expects to be able to purchase 30,000 board feet of Vermont maple in 2023, an increase of 32 percent over their 2021 maple purchases. 
Currently, they source all their Vermont maple from Gagnon Lumber in Central Vermont. Jenson says they purchase close to 100 percent of the upper-grade maple milled there and that as they grow, it allows Gagnon Lumber and other area lumber operations to grow as well. 
"Working Lands chose The Tree House for this grant primarily because of their ability to quickly impact the supply chain in the forestry industry," program lead Elizabeth Sipple of WLEI said. 
In addition, Jenson says the lumber industry supports healthy forest lands in Vermont. 
"Scheduled responsible cuttings help a managed forest thrive and grow much faster than an aging forest," Jenson said.  Sustainability is a big part of the culture and mission at The Tree House. 
"When people are remodeling their homes, when it comes to a countertop, they have the opportunity to make a values choice right there," Jenson said. "You could get a stone countertop, and it's most likely coming from China or far away. There's a huge carbon footprint to get that into your home. Whereas a maple butcher block top, not only does that material sequester carbon, there's also a significantly lower carbon footprint to get it to you."
Expanding Outside Vermont
Known for the artisanal quality they bring to everything they create, The Tree House has done very little marketing and has grown primarily by word of mouth. As a result of their recent expansion, they plan on expanding their sales of Vermont-made countertops outside of Vermont. 
"We're now working to actively market. We do a lot of work with kitchen cabinet companies as they're the ones working with the end customers, whether contractors or homeowners," Jenson said. "As they're selling their cabinets, they're also selling the tops that go on top of those cabinets. So, we're working more closely with them in telling them our story."
Vermont-sourced wood is critical to Vermont Butcherblock Company. Jenson says they will continue to seek Vermont maple as they grow the product line beyond countertops to include more cutting boards and other items.
"The fact we make something that comes from a tree sprouting in the ground, that grows in a forest or on a hillside, and is part of that working landscape that gives us delicious maple syrup and beautiful fall foliage and rolling green hills, is what I love," Jenson said. "We're part of that economy; I love that about what we do."