May 3, 2023
True to its name, Small Axe Farm in Barnet, VT is a small but mighty one acre, no till, off-grid, certified organic market farm. Co-owners Heidi Choate and Evan Perkins have been selling vegetables and berries grown on their farm for 13 years. Starting from a small cabin with no running water or electricity, they've stewarded the land for almost two decades. Small Axe Farm is driven by a mission to learn how to farm its steep hillside in a manner that addresses climate change, supports worker longevity, and serves as a model of renewable energy for the rest of Vermont.  
This year, Small Axe Farm received a $24,999 grant from the Working Lands Enterprise Fund (WLEF) to build an additional solar power off grid system, including roof mounted panels, batteries, and a new inverter. The business had previously received a $9,000 grant from WLEF in 2018 to install initial solar batteries. Installed in May, the new solar array was transformative during this summer's farm season. Small Axe Farm can now meet all its power needs, including irrigation, cold storage, wash/pack, auxiliary lighting for microgreens, and ventilation fans in propagation houses.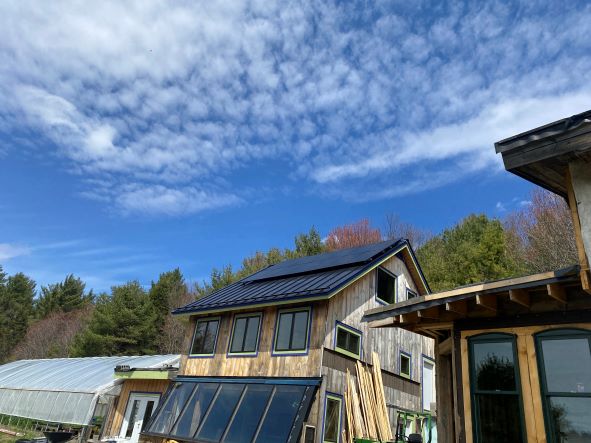 The ripple effects of these changes are felt throughout the farm: produce safety is improved through consistent cooling and wash/pack station use, more space is available for microgreens and propagation, and employees can more easily load produce to and from the cold storage space rather than moving product through the root cellar. In the future, Small Axe Farm hopes to add electric delivery vehicle and an electric utility vehicle. Co-owner Evan emphasizes that while the increased power supply is especially transformative for their off-grid farm, on-grid enterprises can still reap many of these benefits from renewable and efficient energy systems.  
For the past several years, Small Axe Farm has hired at least three full time employees during the growing season, and this year was able to hire five. The system improvements across all aspects of the farm resulting from the solar array have drastically improved employee quality of life, and the efficiencies created room to increase wages.  
According to Heidi, "being off grid allows us to truly understand and be constantly aware of our energy use and needs for the farm. Because we have had to pay for that energy up front, it has forced us to be frugal and has helped us to live within our environmental values." With their new solar array, Small Axe Farm shines as a model for renewable energy-based agriculture that produces high-yield and high-quality produce while respecting the labor, people, and land that make all that possible.