February 1, 2023
In the food world, Vermont is perhaps best known for local cheese, maple syrup, meat, and produce. It's not a place most associate with wheat production. Much of the flour in Vermont is a commodity shipped from out-of-state mills. 
Shawn and Sara Gingue, co-owners of Gingue Family Farm, home to NEK Grains, are part of a small group of grain producers in the state working to change that.   
"People are new to the idea, and they're like, "What is this, and how is it different than the stuff you see at the grocery store?" Sara said of the questions customers ask at their farm store in Waterford, where they sell their flour, beef, and local maple syrup from a nearby farm.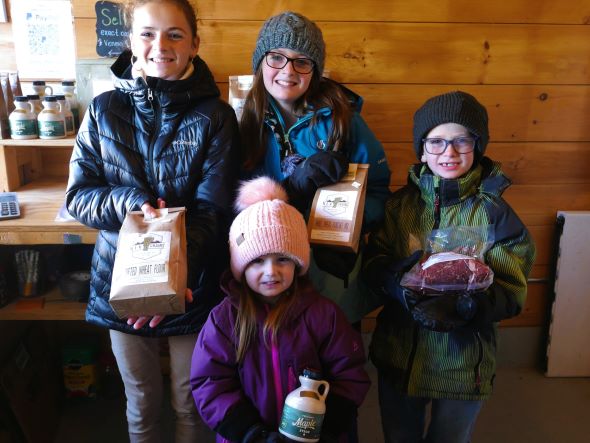 Though it's rare to see Vermont flour, it wasn't so long ago that flour was a mainstay of the Green Mountain State's economy. Vermonters farmed approximately 40,000 acres of wheat in the early 1800s, providing most of the flour in the Northeast.
Depleted soils, the introduction of railroads, and the Erie Canal created competition from other states. By 1950, only 900 acres of wheat were in production in Vermont. New England mills went out of business, and many of Vermont's wheat farmers switched to sheep and then dairy farming. 
Gingue Family Farm's story is one of the cyclical nature of farming. A dairy farm since 1950, the commoditization and oversupply of milk nationally led the family to stop milking cows in 2015. Like many other dairy farmers, they decided to diversify and differentiate themselves from commodity products to be more profitable.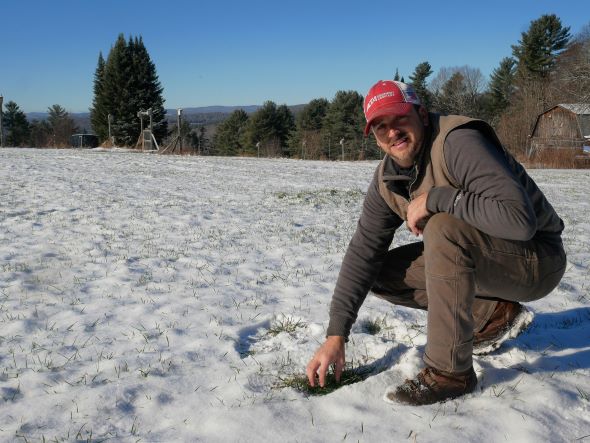 Increasing consumer demand for Vermont-made food created an opportunity to bring grain production back to Vermont and for the Gingues to join the movement. The first thing you'll see on the NEK Grains packaging is, 'Grown in Vermont, Milled in Vermont.'
"We want people to connect and to know there's an actual physical location they can visit and watch the flour be milled or look out at the field and see the grains growing," Sara said. "That's huge for us. We want to have that connection with our customers. We don't just want to haul in a trailer from out in Kansas."
Grant Expected to Grow Flour Production Capacity by 700 percent
In 2018, Shawn went to the Northeast Grain Growers Conference, where he met a brewer who needed local malting barley. A year later, Shawn harvested their first barley crop for the brewery. In 2019, they began growing wheat and producing milled flour products. They sold their first bag of flour in 2020.
Today, they sell grain to 15 wholesale buyers, wheat berries to bakeries and breweries, wholesale flour to a variety of specialty food producers, co-ops, and bakeries, and retail flour and pancake mix at their farm store and to other retailers.
They don't own a mill, so they drive two hours round-trip to Elmore Mountain Bread each week, where 300 to 500 pounds of their wheat is milled into 50-pound bags of flour. 
Sara then packages it into smaller bags on their commercially licensed home kitchen island. She fits it in between homework and mealtimes for their four children. With the time it takes to drive to Elmore and then package the flour, there is no room for growth. 
"We haven't worked to grow the wholesale side of the business because we realized, if we talk to these people and they order, we will have to deliver, and it's not feasible for us timewise," Sara said.
A Working Lands Enterprise Initiative Grant is making scaling up possible. In 2022, Gingue Family Farm received $25,000 to purchase their own mill and expand their farm store to allow for a designated order fulfillment space. 
The project is slated to be completed in early 2023. If NEK Grains runs the mill at full capacity five days a week, they can make 800 pounds of flour daily or 4,000 pounds a week, a 700 percent increase in production capacity.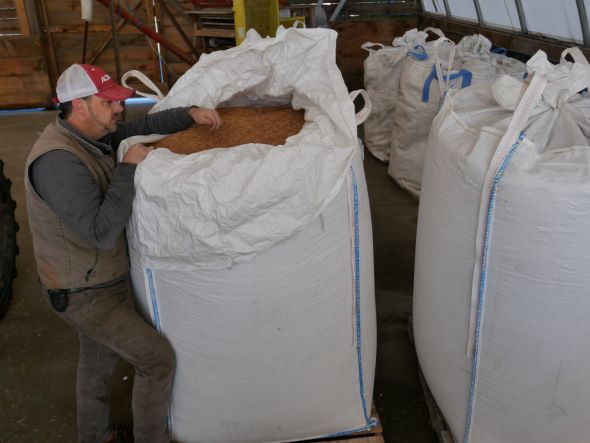 "Once the mill is installed, we'll be able to do everything from planting to harvesting to storing to milling," Sara said, "And we plan on working with Farm Connex to distribute. The mill closes the loop so that we can do everything here."
Farm Connex specializes in the distribution of products from farms to stores across Vermont and the Northeast, and also recently received a Working Lands grant to expand. 
NEK Grains is currently limited in selling products to locations within a close radius of the farm. They only mill flour on demand and keep very little inventory because they have no place to store it. When the new improvements are complete, they'll be able to produce stock and expand statewide with Farm Connex's support. 
An Alternative to Commodity Flour
As they look to expand, Sara says they won't be competing with the Gold Medal commodity flours of the world. 
Instead, their focus is making flour for discerning customers who seek out Vermont-made for various factors; whether it's for the richer taste in baking, environmentally friendly production methods, or desire to buy locally.
For example, the Gingues currently grow 55 acres of winter wheat and 30 acres of winter barley that they care for without pesticides, which is increasingly important to some customers. Those customers will also be able to watch the mill operate from behind a glass wall in the new store. 
"When baking with our grains, you know they are grown by a family that cares and is only a couple of miles up the road. It creates a sense of place in your food," Sara said.
The expansion also means they'll be able to grow more wheat varieties and offer multiple types of flour, so their Vermont-made flour will be available for more usage occasions.  
"Every flour has a different protein percentage, and that's what bakers look at," Sara said. "To get the texture of bread, you would use something that has more protein versus pastry flour which has less protein. Our plan in the spring is to plant some spring wheat and spring barley to expand our product line."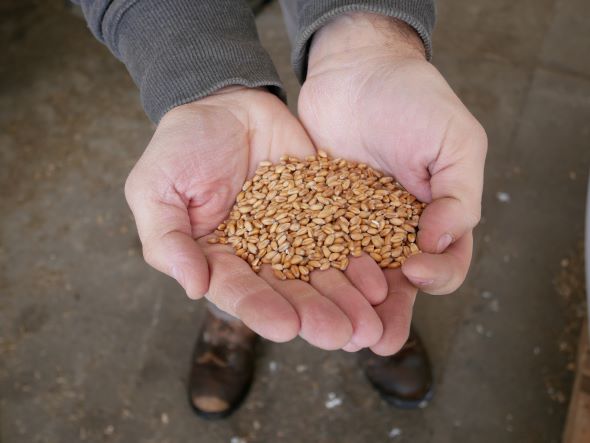 An Opportunity to Support More Local Food Businesses 
The Gingues hope that expanding will create an opportunity for more Vermont farms to grow grains and sell them to NEK Grains or partner in the production process. 
"We'd love to be able to partner with farms because we know it's not feasible for someone growing 10 acres to put up grain bins and buy a combine and do all that," Sara said. 
When their farm store expansion is complete, they'll also have enough space to bring in products from other area businesses. Their location, between the well-traveled I-91 and Route 2, is ideal. 
"We want to be able to sell things like local veggies, canned goods, and pasta," Sara said. "We want to help producers that don't have a brick-and-mortar store or that may be going to farmers markets every week to have an alternative place to sell their products."
Sara says being able to bring enjoyment to people through food is the most fulfilling part of their work.   
"A customer said, 'Oh my gosh, I used your flour for the bread we had for dinner, and it was so delicious.' It's those little things where we know we're a part of people gathering. That's really special to us," Sara said.