May 13, 2022
By Clare Salerno, Vermont Agency of Agriculture, Food & Markets
The Center for Women & Enterprise (CWE) received two grants of $20,000 in 2019 and 2022 to support its business and financial planning programs for women-owned working lands businesses in Vermont. CWE is a New England non-profit economic empowerment organization whose mission is to strengthen communities and the economy by supporting women to launch and successfully sustain businesses. Opened in 2016, the Vermont Women's Business Center operates in partnership with the U.S. Small Business Administration. With its first Working Lands Enterprise Fund (WLEF) grant in 2019, CWE launched a pilot program specifically tailored to serve working lands businesses. The pilot focused on empowering women in the Northeast Kingdom and southern Vermont to build successful businesses, increase financial resources, create jobs, and drive economic growth.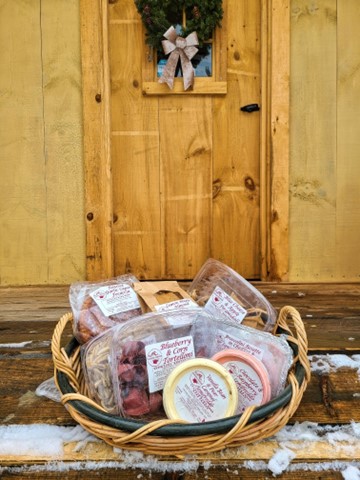 Pasta, focaccia, biscotti, semifreddo, and other products from Trenchers Farmhouse Gastronomia of Vermont in Lyndonville. Co-owner Jennifer Vascotto participated in a CWE business planning course, and the business also sources ingredients from several farms and enterprises that have also received grants from the Working Lands Enterprise Initiative.
The initial pilot launched two programs targeted to the needs of women-owned working lands businesses: a business planning course aimed at start-up and early-stage businesses and a strategic planning program for businesses poised for growth. These programs seek to empower women to build successful businesses, increase financial resources, create jobs, and drive economic growth. The business planning program provides entrepreneurs with learning opportunities to enhance their executive business skills. Class topics include financial capability, marketing to target customers, and options for funding start-up and operating costs.  
CWE's working lands programs engage rural entrepreneurs and women in non-traditional fields, including farmers, value-added producers, food manufacturers, food retailers, forest landowners, and secondary wood processors. The first round of programming served 59 businesses, providing 100 hours of support. CWE held two sessions of a business planning course, a course on personal to business financials, in addition to individual financial counseling. Within six months of course graduation, five participants opened their businesses, and graduates created eight new jobs. Also in that time, graduates who reported on progress retained 17 jobs and generated over $167,000 in sales.  
Through the first WLEF grant, CWE also developed a new partnership with the Center for an Agricultural Economy (CAE) in Hardwick to conduct courses on how to start a food business and exploring startups. CAE staff also provided individual counseling to participants, and the initial collaboration sparked through the WLEF grant has generated a sustainable partnership between CWE and CAE. One CAE staff person serves on CWE's Core Counselor team, and the two organizations share resources and work together to host a business planning course. This partnership between CWE and CAE fills an important niche in providing support to women working lands entrepreneurs in rural Vermont. 
CWE received a second WLEF grant last fall and is gearing up to launch another round of business planning programs and individual counseling programs, with some enhancements. Though WLEF does not directly support a new Community Navigators program, a graduate of initial WLEF-funded pilot course leads the Community Navigators program. CWE will also convene affinity groups to provide additional supports to rural residents, the Southern Vermont community, BIPOC Women Entrepreneurs, and Veterans. 
To learn more about and to register for CWE's upcoming programs, visit cweonline.org/About-CWE/CWE-Vermont.  
Working Lands Enterprise Initiative funding opportunities will re-open in fall 2022. Please visit workinglands.vermont.gov for more information.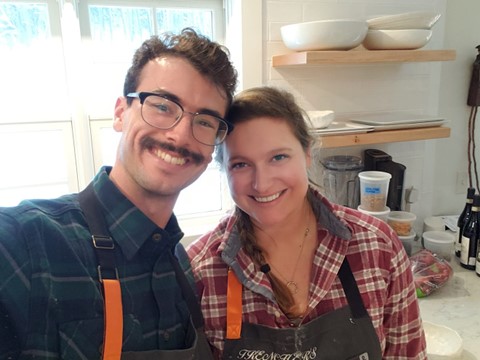 Giacomo (left) and Jennifer (right) Vascotto, owners and operators of Trenchers Farmhouse in Lyndonville. Jennifer participated in CWE's business planning course for women-owned working lands businesses in 2020, which was funded through the Working Lands Enterprise Fund.