Tangletown Farm, 2016, West Glover, Orleans Co.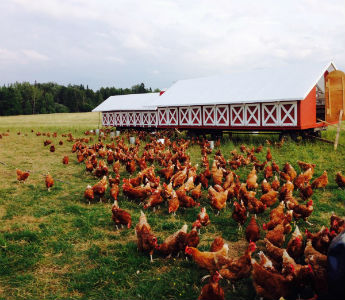 In 2016, Tangletown received a $15,000 Working Lands Grant to increase pasture hen housing so it could scale up of its flock of egg-laying hens.  Owner Lila Bennett believed better infrastructure, such as improved housing and a larger walk-in egg cooler, would make it possible to increase the farm's number of laying hens, as well as their average rate of production.
"Without a grant from Working Lands, I would not have been able to scale up my flock.  The grant allowed me to build two large pasture houses that are great for egg production and make moving and egg collection so much more efficient.  Without the capital provided by the grant, I would not have been able to make that leap," says Bennett.
Tangletown has two flocks of chickens—almost 2600 laying hens—and produces over 108 dozen (~1300) eggs per day. Bennett says she has finally reached the stage where she is almost producing more than she is selling, which excites her as she continues to expand her market. 
"The great thing about having more eggs is that now Don Maynard, of Farm Connex, will pick them up twice a week and deliver them to retail markets for me.  I don't have to deliver them anymore," says Bennett.
It is clear Bennett loves what she is doing as a farmer to provide for her family and for others.
"I have the perspective of a farmer who wants to treat my animals humanely, and a mom who wants to feed my family well.  I feel it is so important to be providing a protein source that is wholesome, inexpensive, and accessible to many families.  It is so exciting to enter into a new scale of farming and watch my business spread out to support and feed others," says Bennett.
Tangletown currently sells its poultry and eggs through its CSA, to local retail stores and restaurants, and at the Montpelier Farmers' Market.  It also provides eggs to other CSA programs, such as Pete's Greens and Farmers-to-You.