Wilcox Ice Cream, 2014, East Arlington, Bennington Co.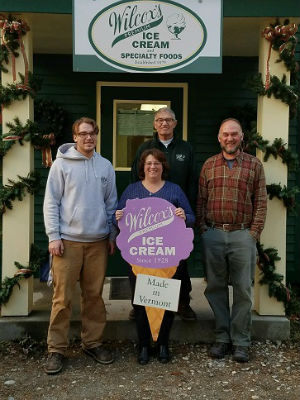 The Wilcox Family has been manufacturing ice cream in Vermont since 1928, when brothers Howard E "Dutch" and Roger Wilcox started making ice cream with a machine and handheld motor and ice harvested from a nearby pond each winter. 
The family business has a rich and diverse story, with challenges and set-backs, but Howard, fourth-generation, and Craig and Christina Wilcox, fifth-generation, business owners, continue to bring its creamy and delicious treat to Vermont eighty-nine years after the first batch was made.
After a terrible fire in 2001 destroyed their ice cream manufacturing plant, the Wilcox Family was determined to keep the business going.  They began manufacturing ice cream in other production facilities in Vermont, New York, and Massachusetts, moving when necessary to support continued business. 
"On Production Day, Dad (Howard A. Wilcox) and I drove to a production facility with our inclusions, packaging, and mix," says, Christina Wilcox.  "We made our ice cream, loaded it, took it home, and unloaded it.  It was a 20-hour day, but we did it that way for fifteen years." 
While traveling to other production facilities helped maintain the business, it did not provide the capacity to grow the Wilcox product line.  Wilcox purchased out-of-state products to keep customers supplied and began transporting frozen goods for other companies.
Everything changed in 2014, when Wilcox Ice Cream received a $20,000 Working Lands grant to help construct a new ice cream production room to house a "continuous ice cream making machine" and a 5000-gallon wash water-holding tank.
"This was a small grant in relation to the size of the project, but it was really the beginning for us," says Christina.  "Without the grant to act as cash-down on our first loan, it never would have been possible."
Since moving into its new permanent home in East Arlington, Wilcox Ice Cream has seen a steady increase in sales and new business relationships.  Last winter, Wilcox began production of an alcohol-infused ice cream and sorbet bar (the "Buzz Bar") for a company in California.  It also launched a project with University of Vermont to make a special "UVM blend" ice cream from UVM dairy milk supplied to St. Albans Cooperative. The ice cream will be served in UVM dining halls and in a new on-campus "scoop shop."
In addition to new projects and relationships, Wilcox is poised to increase production and distribution of its own line. 
"We are working to obtain new customers and new wholesale and retail markets," says Christina.  After the fire, we had to grow the resale line of our business, but now we are ready to grow our own product lines." 
And now "Team Sweet Street," as the employees have affectionately became known by the local population, is ready for the next chapter in their story.