Vermont Table Company, East Burke, Caledonia County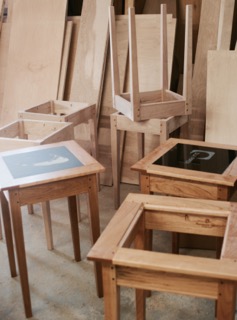 Doug Clarner and Dena Greenman, co-owners of Vermont Table Company in East Burke, VT, which specializes in handcrafted, customized tables from locally sourced natural materials, received a $8,922 grant from the Vermont Working Lands Enterprise Initiative (WLEI) in 2015 to invest in an Epilog Zing 24 laser engraving machine to engrave granite, marble, and slate tiles for custom table orders.   In addition to enabling Vermont Table Company to meet the demands of their customers, Doug and Dena report that the WLEI grant has led to improved business structure, productivity, product quality, increased revenue, and quality of life.
Before developing in-house engraving capabilities thanks to the WLEI grant, meeting customer engraving demands required a trek to St. Johnsbury, at least one hour round trip per table order, to deliver and pick up tiles at a 3rd party engraving company. If their 3rd party engraving partner was closed for business, or the machine was unavailable, the order was delayed.  Because the majority of Vermont Table Company products   are gift items, time is of the essence and delays can be costly and detrimental to customer satisfaction. With new laser machine engraving capabilities now available in-house and on demand at Vermont Table Company, Doug and Dena have complete control over their production process and are able to produce and ship products in a timely manner.   The new engraving system received its first real test in September 2015 when Vermont Table Company received a number of orders all at once. Doug and Dena were amazed at the extent to which their new equipment simplified their process. 
Money and time savings made possible by the WLEI grant have been the most significant outcomes thus far, saving  Vermont Table Company up to 5 hours of valuable travel and labor per week per tile.. Both Doug and Dena are highly satisfied with the outcomes of their grant investment thus far and anticipate increases in orders and revenue over time as their company continues to grow.