Maple Wind Farm, 2013, 2015, Huntington, Chittenden Co.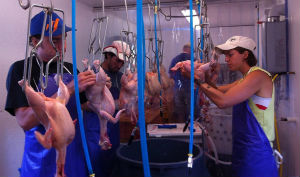 Prior to 2010, Maple Wind Farm, a diversified, pasture-based livestock farm, was producing and processing non-inspected poultry under Vermont's 1,000-bird exemption.  As the poultry part of its business grew, Maple Wind used the state's Mobile Poultry Processing Unit (MPPU) to expand to 2,000 birds, which was enough volume to reach the wholesale and restaurant market. However, the sale of the MPPU to a private individual would have forced Maple Wind to draw back down to its former exemption level. 
"In order to expand our poultry offerings and access new markets, we decided to build a small USDA-inspected poultry-processing facility," says Maple Wind Owner Bruce Hennessey. 
Maple Wind Farm received a $15,000 Working Lands grant in 2013 to help build a Poultry Processing Unit, which was completed, installed, and in operation by July 2013.  Maple Wind Farm's quantity of processed poultry increased dramatically after that—up to 8,000 broilers and 400 turkeys by 2014.  The new unit made operations more efficient by decreasing processing time and costs. It also provided an outlet for other local farms seeking inspected processing services. 
After an increase in production, Maple Wind Farm Owner Bruce Hennessey looked toward upgrades for efficiency improvements.
"We knew freezing capacity would allow us to freeze meats and other value-added products on-site, increasing product-flow efficiencies and lowering costs," said Hennessey. 
In 2015, Maple Wind received another Working Lands grant--$67,400 for upgrades, including a blast chiller for poultry, increased freezer capacity, and poultry-processing equipment. Hennessey says the benefit of air chilling has been tremendous.
"Most poultry in the U.S. is chilled in ice water baths.  While it is a quick way to chill, it results in an inferior product, as the processed bird retains 5-8% of the water and provides increased possibility for contamination. With air chilling, the chicken loses a little moisture, flavor is more intense, and the meat more tender." 
Although Maple Wind produces a variety of pasture-based livestock, including beef and pork, as well as organic vegetables, poultry has grown into its primary enterprise. 
"Right now, we are about 80% wholesale," says Hennessey.  "We are not quite at capacity, but an arrangement with one more big company would provide the ability to max out at 20,000 birds per year." 
Hennessey says his farm's success was made possible through the help of many organizations.
"There are a lot of synergies involved, a lot of directions, with many important pieces.  The Working Lands grants were some of those pieces, providing leverage for other loans, grants, and assistance.  We are also thankful to many other organizations, including Vermont Land Trust, the Towns of Richmond and Huntington, Vermont Community Fund, City Market, and Efficiency Vermont, for their help in bringing all those pieces together to make it happen."