Laughing Child Farm, 2015. Pawlet, Rutland Co.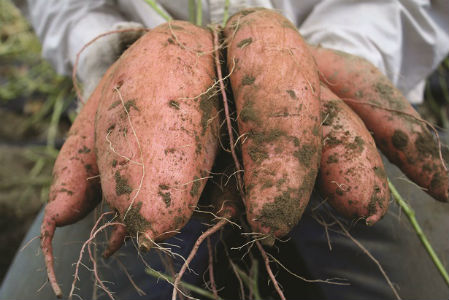 Brooke and Timothy Hughes-Muse grow organic sweet potatoes in the Mettowee River Valley, which boasts the perfect climate for sweet potatoes. Yet the Hughes-Muses' business was limited by the old dairy barn they used to cure sweet potatoes, which was hard to heat, relatively small, and unable to be GAP certified (GAP stands for "good agricultural practices"). With help from a $20,000 Working Lands grant awarded in 2015, the Hughes-Muses immediately got to work building a new curing and storage facility to process and store their crop.
The new facility increased output from 39,000 pounds of sweet potatoes in 2014, to 97,000 pounds harvested in 2016. In addition, improved insulation in the building decreases the time and energy it takes to heat the sweet potatoes to curing condition, saving firewood and completely eliminating the use of propane. A roomy layout enables increased efficiency for washing and loading, measured by a 26 percent increase in production for 2015—and better quality of life for Brooke and Timothy, who can now wash and pack a bin of sweet potatoes in about an hour (as opposed to three hours, as before). With increased storage capacity and more efficient processes and production, Brooke and Timothy can grow more sweet potatoes, which puts more money back into the local economy. It also means that neither had to take off-farm jobs this year—for the first time ever—giving them more time to spend with their four daughters.