Doolittle Farm, 2014, Shoreham, Addison Co.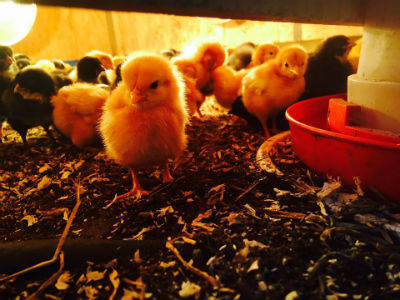 Prior to receiving a Working Lands grant in 2015, Doolittle Farm Owner Bay Hammond said, "Our pastured organic eggs get rave reviews and supply rarely meets demand.  However, an analytical look shows that labor cost needed to wash, crack-check, and pack our eggs is unsustainable."
Doolittle Farm is a small family-run, diversified farm in Shoreham producing natural, pastured, and certified organic products from heritage poultry breeds.  Doolittle's flock of approximately 400 laying hens and 200 pullets produces about 300 eggs per day. The Farm is still scaling up and expects to reach 800 layers by the end of the year.
In 2015, Doolittle received a $14,203 Working Lands Grant to create an egg center for washing, candling, and packing eggs.  Hammond says the grant enabled her to step up production and grow into the capabilities of the egg washing station, rather than struggling with manual washing until she had the capital to afford it.
"There is such a small profit margin with eggs that it would have taken a long time to make enough money to add a station," says Hammond.
The largest impact to the farm since the addition of the egg washing station has been improved efficiency—egg-washing and packing take about one-third the time they used to.  The candler also saves time because Hammond can quickly and efficiently inspect her eggs, which helps her maintain the farm's high standard, quality eggs.
Doolittle currently sells its eggs on-farm and at Middlebury Food Coop and Farmers' Market, and at Healthy Living. The older layers are processed for organic stewbird meat or donated to community farms.