Does Leap Farm, Bakersfield, Franklin County
2013 Enterprise Grantee: $6,103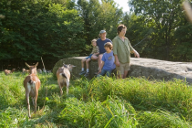 Does' Leap Farm in Bakersfield, VT, a diversified organic farm specializing in fresh and aged goat cheeses, kefir, and farm-made artisan sausage received a $6,103 grant from the Vermont Working Lands Enterprise Initiative to invest in the expansion of their on-farm pork and sausage production venture. Thanks to their grant, Does' Leap Farm was able to add a new whey pump and on-farm sausage-making equipment to their list of inventive agricultural systems.  The new whey pump allows for the distribution of whey from the farm's cheese operation to different areas of the farm previously inaccessible to pigs, who feed on the whey left over from the cheese-making.  This process not only facilitates the recycling of a waste product, but also helps improve the health of the land by increasing the area in which the farm's pig population can "renovate."
"The Working Lands grant was vital in enabling us to scale up our operation to meet current demand, improve the efficiency of sausage production, and broaden the ecological role pigs play in our farm ecosystem," - George Van Vlaanderen, Owner.
Sausage production investments included a meat grinder, which, along with various hand tools (knives, sharpeners, cutting board, etc.), increases sausage-making efficiency.  A new freezer and refrigerator is enabling more product storage, while a vacuum packer is improving freezer life and frozen sausage point-of-sale aesthetics.
Does' Leap's farm-made sausage is a unique business enterprise because it transforms formerly undifferentiated, low-margin commodities into a highly profitable, specialty food product.  Due to their high quality meat, small-scale production process, distinctive recipes, and utilization of fresh herbs, Does' Leap Sausage is readily identifiable, unique, and highly sought after.
Hired one additional full time employee
Increased gorss sausage sales by 168%
Increased sausage production >50%